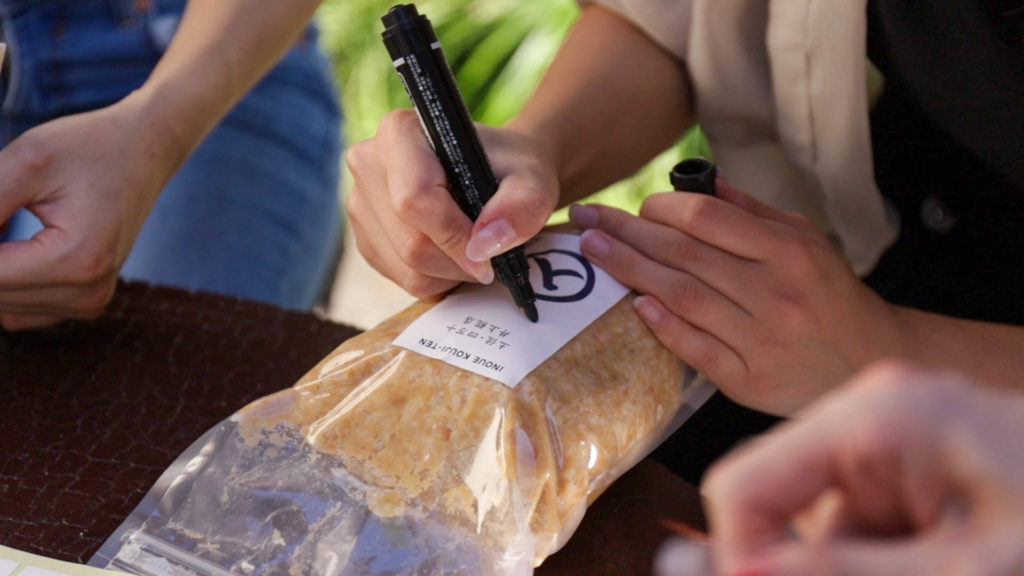 Making miso in a shukubo (guest house). Let's try to make your own taste. You can also taste the other participants' miso.
In session
・ Making miso at Iwamotoji Shukubo.
・ The friendly people of Inoue Jiuqu, who have been making additive-free Jiuqu and Miso for about 180 years, will teach you.
・ It's a living miso because it's not heated, it's aged for a long time, and it doesn't stop fermentation!
"Old-fashioned seasonings are good for your health! Delicious!"
・ The taste of the "miso" that you make yourself will change depending on the bacteria that attach to the person and the growing environment, and the original "miso in front" will be completed.
・ To make miso, mix salt with the finished rice bran and mix it with soybeans boiled in Kamado to make minced meat.
・ If you let it sit for half a year to a year, it will take some time to complete the finished "front miso", but let's brag when it is finished.
"The taste is undecided"
"Not enough depth"
At that time, try adding a scoop of miso in the foreground!
It will be such a magical seasoning.
・ After making miso, enjoy a whimsical chatting entertainment such as amazake and miso soup *.
* It depends on the date of the event, but what will happen is fun on the day.
Details of the plan
【Schedule】
 [Noon parts]
 13:00 Iwamoto Temple meeting
 13: 10-14: 30 Miso making experience (Iwamoto Temple dining room)
 
 
 [Afternoon]
 15:00 Iwamoto Temple meeting
 15: 10-16: 30 Miso making experience (Iwamoto Temple dining room)
---
【Belongings】
 Easy-to-work clothes
---
【personnel】
 1-12 people
---
【supported language】
 Japanese / English (translator compatible)
---
[Fee]
 ■ 18 years old and over 4,900 yen (tax included)
 ■ 6 years old and under 18 years old 3,600 yen (tax included)
  * Under 6 years old cannot participate
---
[Other conditions]
 Please be careful not to eat natto the day before or on the day of the experience.
 (The yeast in miso will die.)
---
【Application deadline】
 Until 7 days before the desired experience date (same day)
---
【Payment】
 Credit card payment only
---
[Included in the cost]
[Sponsor insurance]
 ・ For accidents and injuries that the organizer joins
  Scope of accident insurance to cover
   ● Death 300 million yen
   ● Hospitalization (daily) 1,000 yen
   ● Outpatient (daily) 1,000 yen
[Experience fee]
 ・ What is specified in the itinerary
[Things not included in the cost]
 ・ No accident insurance.
  Please participate at your own risk.
  Reference: Montbell field play insurance
  (Domestic travel accident insurance)
 ・ Other than those included in the above costs
---
* Support for new lifestyles *
Installation of disinfectant solution, body temperature / health check, wearing mask