Shikoku Sacred Ground 37th Fudasho "Iwamoto Temple" TERA-CAMP
"TERA-CAMP" is an RV-only campsite on the grounds of Iwamoto Temple.
A mysterious space where you can also use the bath and sauna "TERA-SAUNA" in the adjacent shukubo.
Dirty equipment will not smell or stain your car.
Limited to one site, you can enjoy setting up a car or site to your liking.
We also offer hands-on programs (advance reservations required) such as making Japanese sweets, making miso, copying sutras, and sitting at Iwamoto Temple, so you can enjoy the temple with your family and friends as well as the pilgrimage. Please use it.
One of the pleasures is to park your car at the campsite and take a tuk-tuk * for cruising along the Shimanto River.
* Tuk-tuk will be introduced as a 2021-seater and 4-seater rental car from the end of March 7.
[Camping site]
 Shikoku Sacred Ground 37th Fudasho "Iwamoto Temple" 
 XNUMX Shigekushimachi, Shimanto Town, Takaoka District, Kochi Prefecture 
 TEL: 0880-22-0376
---
[Available vehicles]
 * There is a high limit (because of the torii gate)
 × Full control
 × Semi-full control
 × Birth control
 × Travel trailer
 〇 Cabcon
 〇 Bancon
 〇 Light can
 〇 Bike
---
【Business day】
 Year-round 
 [check-in] 
 15:00 - 18:00   
 * Please contact us if you are late
 Reception desk Iwamoto Temple
  (Please park your car at the camp site and come to the reception)
 [check out] 
 12:00
---
[Usage fee]
  ■ 3,400 yen (tax included) / unit (including 1 person)
  Parking fee, power supply usage, garbage disposal fee included
■+1 yen per additional person
 ■ 1,000 yen (tax included) / person 
  Bathing fee (towel rental, toothbrush) included 
 ■ Common to adults and children
  (Free under 6 years old)
---
[Notes on temple camp reservation] * Please be sure to read
https://drive.google.com/file/d/1NR9hWwtni7fCV7_V9o3pWc2M2iFT97_P/view?usp=sharing
---
MAP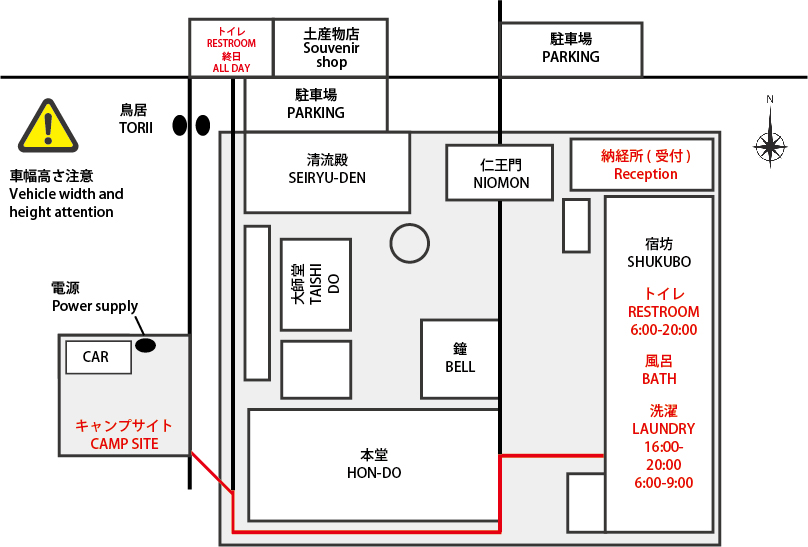 ---
Bath / washbasin
Location: Iwamoto Temple Shukubo XNUMXF
Hours of use: 16: 00-20: 00, 6: 00-9: 00
・ Please disinfect your hands when you enter the museum.Not available to those who are not in good physical condition such as fever.
・ Separate gender (4-XNUMX people each) Please stagger the time when it is crowded.
Towel, shampoo, conditioner, body shampoo
Hair dryer, mirror, hand soap
Laundry

Hours of use 6: 00-20: 00
Washing machine once 1 yen  
Dryer 100 minutes XNUMX yen
Shukubo XNUMXF
WC
Shukubo: 6: 00-20: 00
Souvenir shop
"Yugeian" Yugeian Yoko Universal Toilet: All day
Flush toilet with warm water toilet seat, washbasin

---
[About temple camp facilities and corresponding services]
---
【Options】
■ Shukubo breakfast (Japanese food)
 XNUM X yen / person
 Common to adults and children (free for children under 6 years old)
 7:00 - 9:00
 * Please select from the reservation form
■ Iwamoto Temple guest-only plan Limited to one group per day
(Including campsite)
Bonfire BBQ at a temple
▼ BBQ fee for elementary school students and younger is free
▼ Only for those who have confirmed the camp reservation
▼ Please reserve the BBQ plan again after confirmation
(If you register as a member, you can easily perform the next input operation.)
BBQ courses / menu
---
BBQ rental set ¥ 3000
---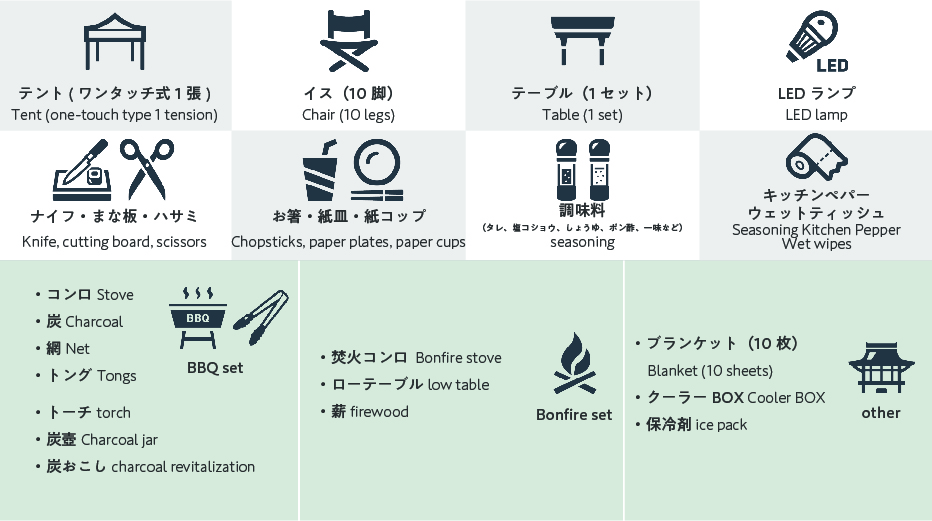 * All included in 3000 yen
* 10 sets of chopsticks, paper plates, and paper cups
---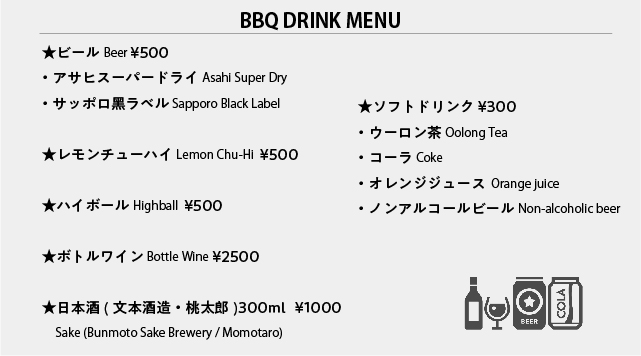 ---