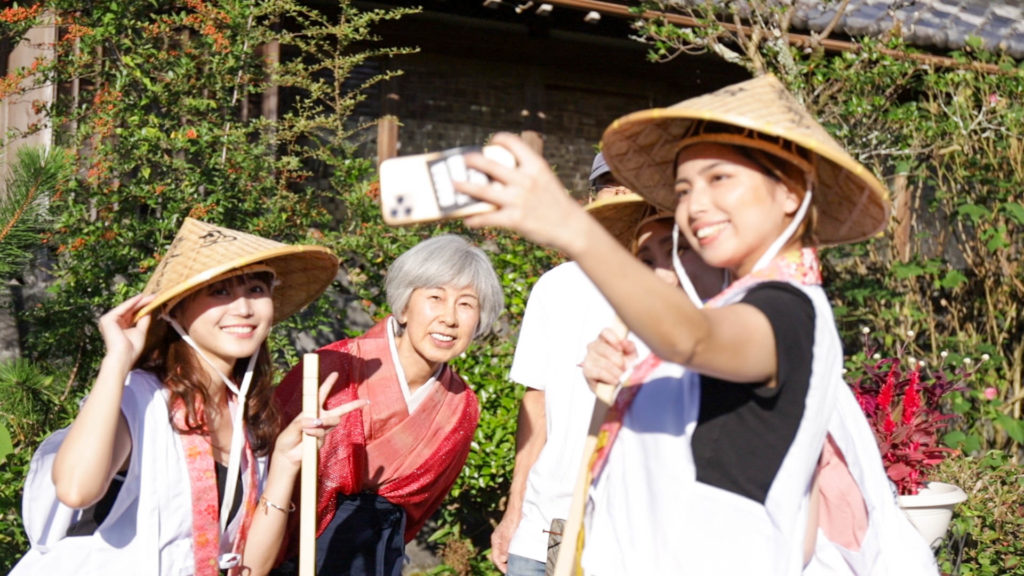 Held from March
You can walk along the pilgrimage route leading to Iwamoto Temple, wearing costumes and experiencing the warmth of the people at reception areas along the way.
Click the download button for the guide and pilgrimage experience route map
---
[Updated from time to time]
Held from March to the end of June September to the end of November
---

・ From Tosa-Kure to Iwamoto-ji Temple, No. 37 over Osaka Valley, pilgrimage about 20km
・ Pilgrimage guide will guide you
・ Pilgrimage lab coat (without jacket sleeves), swordsmanship, and pilgrimage bag are included in the price.
・ Pilgrimage hats and canes can be rented free of charge, and if you are using a new one, you can prepare them as an additional option (3700 yen).
・ Niida rice rice ball lunch box
・ Entertain at FujiYuan (walking pilgrimage entertainment area)
・ Bath at Iwamoto Temple Shukubo
・ Temporary luggage storage (Iwamoto Temple, only on the day)
Details of the plan
【Stroke】
8:30 Iwamoto Temple Shukubo Meeting 
(Unnecessary luggage will be kept at the shukubo)
White coat, worship, and tour bag include charges
 ▼ Additional options
  [Kasa, Kongo-zue] ¥ 3,700      
Meet with the guide and get ready
8:45AM - 8:55PM Iwamoto Temple → Walk → Kubokawa Station
9:07AM - 9:31PM Kubokawa Station → JR regular train → Tosa-Kure Station
10:30 Osaka valley
11:30AM - 11:30PM Nanako Pass (restroom break) 7.2km
12:30AM - 13:00PM Yuki Tsubaki Toya Lunch: Rice balls
14:30AM - 15:00PM FuJiyuan (break) 8.0km
16:30 Iwamoto Temple 4.8km
16:30AM - 17:00PM Bathing (Iwamoto Temple Shukubo)
17:30 Dissolution
---
【Belongings】
 ・ Drinks, nutritional supplements
 ・ Clothing, shoes, etc. suitable for mountain walking
 ·towel
 ・ Health insurance card or copy
 ·rain gear
---
【personnel】
 1 group per day (1-1 people)
---
【supported language】
Japanese / English (translator compatible)
---
[Fee]
 ■ 18 years old and over 16,600 yen (tax included)
 ■ 6 years old and under 18 years old 11,600 yen (tax included)
 * Under 6 years old cannot participate
---
[Participation conditions]
・ If the guide judges that it is dangerous due to bad weather, we will cancel it.
(Judgment at 15:XNUMX on the previous day, there is a possibility that it will be canceled on the day
There is)
・ Under 1 years old cannot participate alone.
 Please be sure to join us if you are over 18 years old.
・ Those who can walk in the mountains on their own.
---
【Application deadline】
Until 7 days before the desired experience date (same day)
---
【pay off】
Credit card payment only
---
[Included in the cost]
[Meal]
 lunch
[Others]  
 Souvenirs (white coat, pilgrimage bag, wagesa)
 Kongo-zue * For rental
 Kasa * For rental   
 Towel
 Bath towel (bath)
 Temporary luggage storage (Iwamoto Temple)
[Sponsor insurance]
 ・ For accidents and injuries that the organizer joins
  Scope of accident insurance to cover
  ● Death 300 million yen
  ● Hospitalization (daily) 1,000 yen
  ● Outpatient (daily) 1,000 yen
[Experience fee]
 ・ What is specified in the itinerary
[Things not included in the cost]
 ・ No accident insurance.
  Please participate at your own risk.
  Reference: Montbell field play insurance
(Domestic travel accident insurance)
 ・ Other than those included in the above costs
---
[Special support]
Allergies ◯ / Vegan × / Vegetarian × / Muslim ×
---
 
Public transit:* Reference There is a possibility of suspension due to timetable changes or stormy weather, so please be sure to check the JR Shikoku website in advance.
---
* Support for new lifestyles *
Installation of disinfectant solution, body temperature / health check, wearing mask
BOOKING
back to the list