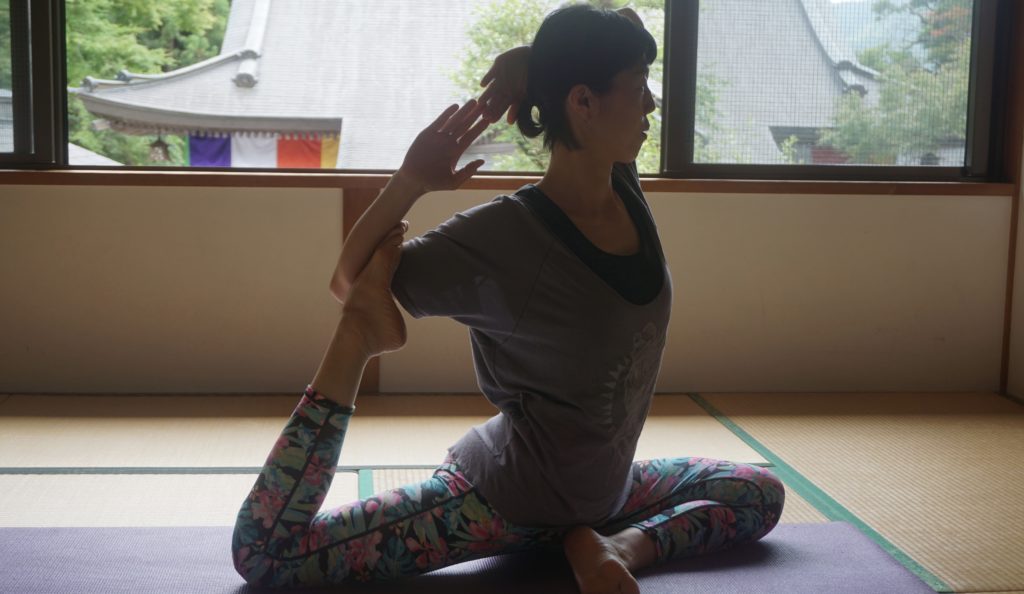 Yoga experience at a temple.After yoga, enjoy SHIMANTO lunches and reward your mind and body ♪
Held from January 2021, 1
♦ ︎ Yoga experience at a shukubo in Iwamoto Temple (Yoga mats can be rented free of charge)
♦ ︎ After yoga, lunch at the cafe menu named "Shimanto" at the cafeteria of the shukubo
♦ ︎ You can also enjoy the mysterious atmosphere that prepares your mind and body while listening to the pilgrimage of Pilgrimage.
♦ ︎ Guidance by Kanae Kanbayashi (Niida, Shimanto Town), an instructor who moved to Kochi Prefecture
[Profile of Kanae Kanbayashi]
Born in Gunma prefecture.
After starting yoga when he was ill at work, training in India and instructing at a studio in Tokyo, he moved to Kochi prefecture with his family in 2015.
While enjoying the nature and life of Shimanto, a regular yoga class has been held at Iwamoto Temple since 2017.We are also planning a collaboration with the experience at the temple.
I love Indian curry and watching Buddha statues.Qualified for 200 hours of the National Yoga Alliance.
"Shimanto cafe"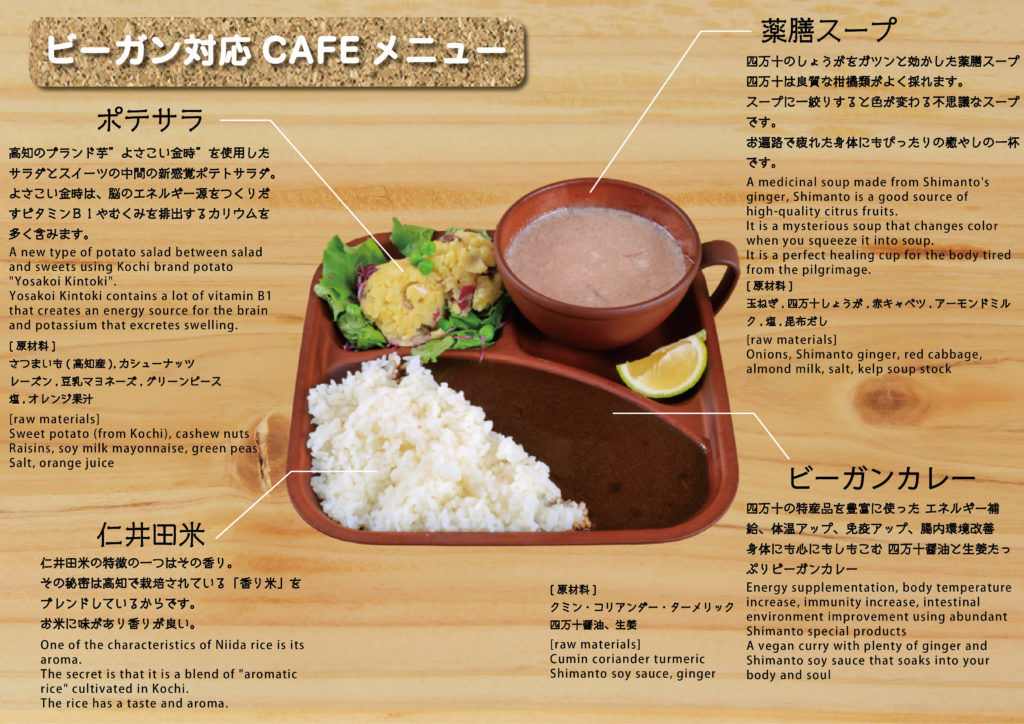 ---
[Shimanto Temple Curry]
Soak into the body and mind using Shimanto special products and Niida rice
Vegan curry with plenty of Shimanto soy sauce and ginger
---
[Shimanto Potesara]
Knowledgeable brand potatoes [Yosakoi Kintoki] and special products of Shimanto City [BUNTAN]
An original potato salad with citrus fruits.
The appearance is bright and cute, and the refreshing taste by using BUNTAN.
An image of the middle between salad and sweets.
---
[Magic Shima Soup]
A soup that uses locally produced ginger, potatoes and purple cabbage to change the color.
Freshly made lavender, blue when cooled, pink when squeezed citrus
Details of the plan
【Stroke】
 9:50 Iwamoto Temple Shukubo XNUMXF Meeting
 (You can change clothes in the changing room on the XNUMXst floor)
 10: 00-11: 20 Yoga experience
 11: 30-13: 00 Shimanto Cafe Menu Lunch
          (At the shukubo dining room)
 13: 00 dissolution
---
【Belongings】
 Relaxing clothes
---
【personnel】  
 3-8 people
---
【supported language】
 Japanese / English (translator compatible)
---
[Fee]  
 5,300 yen (tax included)    
 * Under 6 years old cannot participate  
 ■ You may be asked to join with other customers
---
【Application deadline】
 Until 7 days before the desired experience date (same day)
---
【pay off】
 Credit card payment only
---
[Included in the cost]
 [lunch]
 [Sponsor insurance]    
 ・ For accidents and injuries that the organizer joins    
  Scope of accident insurance to cover    
  ● Death 300 million yen    
  ● Hospitalization (daily) 1,000 yen    
  ● Outpatient (daily) 1,000 yen [Experience fee]    
 ・ What is specified in the itinerary

[Things not included in the cost]    
  ・ No accident insurance.     
   Please participate at your own risk.    
   Reference: Montbell field play insurance     
   (Domestic travel accident insurance)    
  ・ Other than those included in the above costs
---
[Special support]
 Allergies x / Vegan ◯ / Vegan x / Muslim x
---
* Support for new lifestyles *
 Installation of disinfectant solution, body temperature / health check, wearing mask
BOOKING
back to the list